So, I mentioned the other week that I was afraid I might be coming down with a case of Sweateritis. Well, it is a full blown infection, and I've been hit bad. I have the Accidental Sweater almost off the needles (I had a bit of trouble figuring out the sleeve stripes, but more on that later), and to be honest the fact that I
accidentally started a sweater
should have clued me in to my state of mind weeks ago.
Behind that, I have
four
sweaters in a pretty solid state of preparation. I've got yarn, I've got patterns, and half of the yarn is wound and ready to go. I've knit swatches, I've double checked yardage, and I'm sitting here wondering
how the heck did I suddenly decide to cast on four sweaters
?
Up first, we have my birthday sweater, which I've already shared a bit
here
. I'm super excited for this one (bright yellow! lace! alpaca!).
Pattern:
Summer Helmut
by Boadicea Binnerts, with lengthened sleeves
Next, we have Drift, which I've also mentioned
here
. Again, super exciting things going on here (fun colors! lace! alpaca! umm...I'm sensing a trend).
Pattern:
Drift
by Kristen Finlay
Third, we have Cormac, which I was drawn to right away when I got the fall issue of Knitscene, and then seeing
Faith's version
sealed the deal for me. Then I scored some amazing gold-colored vintage Japanese silk yarn in the Great Northern Knits Kickstarter campaign, and I knew they'd be perfect together. I still need to swatch and fudge some numbers, and I'll definitely need to hold the silk doubled, but this is going to be a real showstopper (gold! lace! oversized!).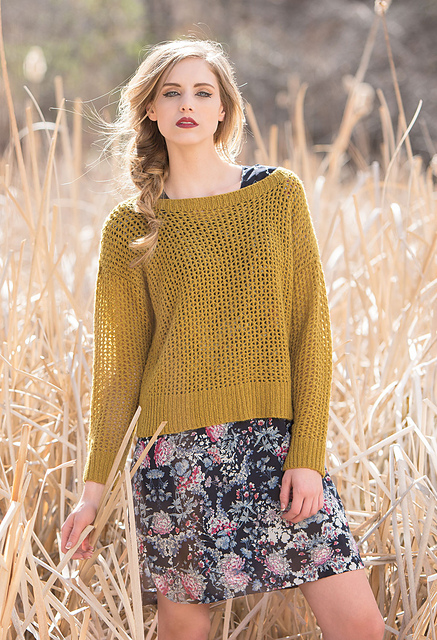 Yarn: Japanese Royal Silk (vintage, no info)
Finally, we have Audrey in Unst, which has been in my queue since May 2011. I love this pattern so much, and when I found my Lion Brand Sock-Ease in Rock Candy the last time I went through my stash, the two just clicked for me. I love that there are little pops of color in this yarn, and the base is neutral enough that it will fit into my wardrobe really well.
SO. Amazing sweater-y things happening here. I'm really excited, and hopefully I get some amazing sweaters done before my sweateritis clears up.
All sweater photographs copyright their respective publishers