Today I have not one, but TWO shiny new knits to share with you! Over the weekend I finally got around to photographing these, which have been waiting for me to take photos since the first week of January (I know, I know). Before we get into my first official FO of 2020, let's catch up on an unblogged one from last year.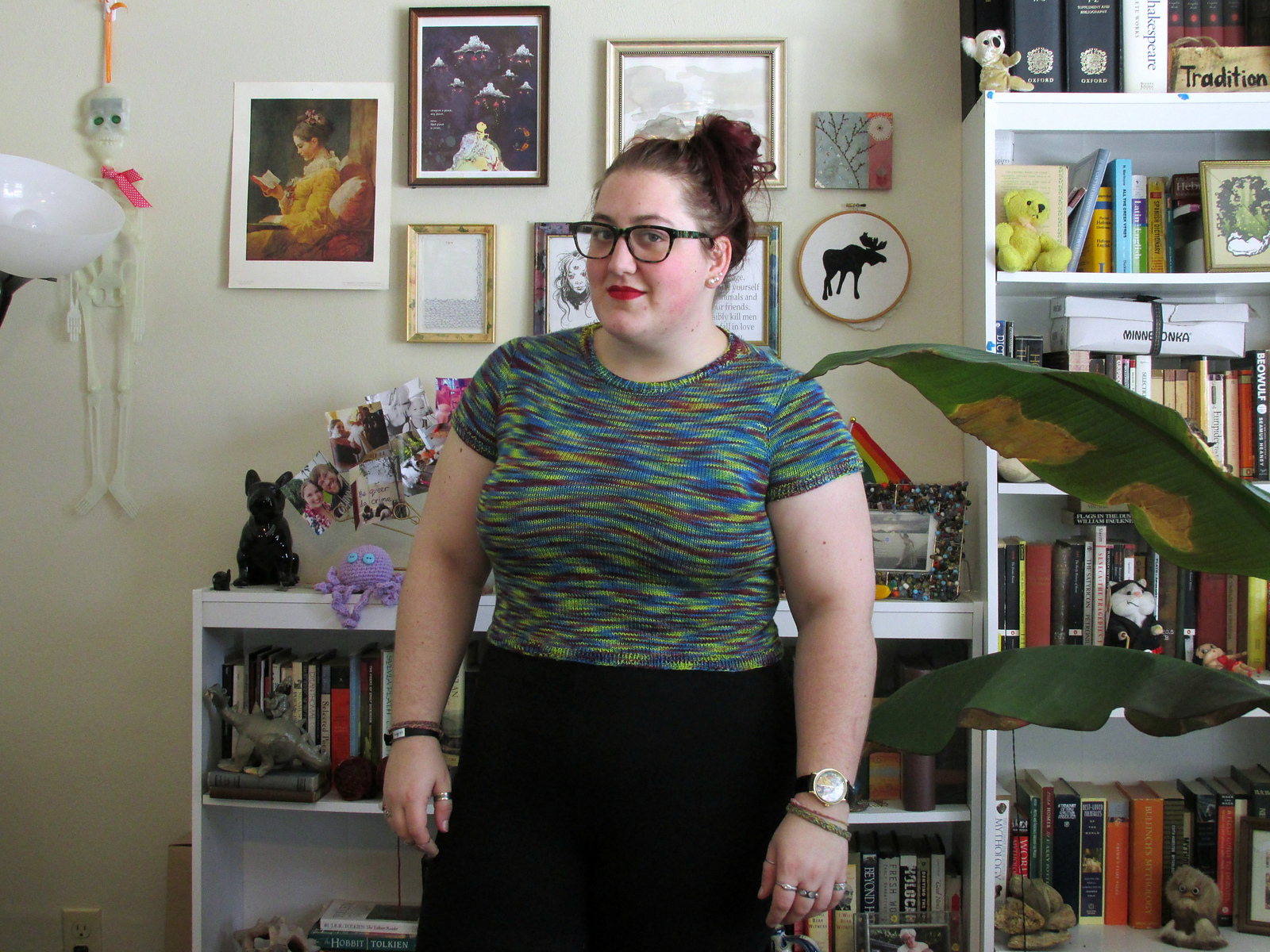 You might remember
this CYOA Tee
that I wanted to knit for the OAL last year. I finally managed to finish the top in November and, well,
this happened
. I'd tried swapping out the ribbed collar for an i-cord one, and while it looked GREAT, it didn't actually fit over my head. So I threw the whole thing on my dining room table and didn't fix it until after New Year's. It took half an hour to fix.
I didn't swatch for this because I am a rebel, so it's a bit tighter than I'd planned, but it still looks great. I wish the shoulders were a touch wider, but that's all my fault, and only other people who make clothes or really care about fit will notice, so it's all fine.
Now for my first official FO of 2020! I finished my Arachne on New Year's Day, so maybe I'm cheating a bit to say that I've already finished a sweater this year, but I don't care! I'm absolutely in love with this. My row gauge was off, so the whole thing is longer than written, but I'm really pleased with the finished length. I also love a deep yoke, so I'm not bothered by the extra length there as well. The black and the speckled green work as well together as I planned, and the whole thing is pretty close to my idea of a perfect sweater.
I alternated green skeins throughout, because I was using four skeins from three different dye lots. Overall, I think they blended wonderfully, although you might notice that brighter green band right underneath the colorwork. I have no idea how that happened. I didn't introduce a new skein there, I was doing the same thing I'd been doing in the rounds previous, and as you can see, it stops after a couple inches. It's a mystery.
Pattern:
Arachne
by Andi Satterlund